Characteristics of Third Reich SA/SS/NSKK Style Daggers
It would be impossible to accurately describe Third Reich dagger construction practices and variations in one web page. However, the following table offers guidelines in recognizing the different dagger construction techniques and materials used on model 1933 SS/SA/NSKK daggers throughout the dagger production period from 1933 to approximately 1942. This doesn't mean that all daggers produced in each period will be made the same way or use the same materials. The change from one period to the other was gradual over time so that, for example, a dagger made at the end of 1935 or beginning of 1936 could exhibit characteristics of either or both periods. And there are exceptions to every rule - especially in collecting.
Blatant omissions and errors can be pointed out to me but to tell me that a late production dagger could have a nickel-silver grip eagle is a waste of your time and mine. Having said this, I am always interested in hearing form people who have interesting anomalies to the table below. I apologize for the poor quality of the pictures below since I do not yet have a digital camera
~ SS/SA/NSKK Model 1933 Dagger Characteristics ~

Early
(1933-1935)

Mid-Period
(1936-1937)

Late
(1938-1942)

Crossguards

Nickel-silver

Nickel-silver
Nickel plated

Nickel plated

Grip Eagles

Nickel-silver

Nickel-silver
Aluminum

Aluminum

Blades

Much hand polishing
Low centre ridge

Less hand polishing
Higher centre ridge

No hand polishing
Sharp centre ridge

Maker Marks

Company logo

Company logo and/or
RZM marks
None

RZM marks
None

Scabbards

Anodized

Anodized
Painted

Painted

Scabbard Fittings

Nickel-silver

Nickel-silver
Nickel plated

Nickel plated

Note 1: The terms "early", mid-period" and "late" are well known and understood by collectors when describing a dagger. The above dates used in defining these different construction periods are generally accepted by collectors but are only guidelines. They are not absolute and some so-called "early" pieces were no doubt made later than 1935 with the same applying to "mid-period" pieces.

Note 2: Prior to 1936, members of the NSKK wore the standard SA dagger. In 1936 they were ordered to have the scabbard of their existing SA dagger painted black to distinguish them from the SA. From then on, NSKK daggers were produced with black scabbards.

Note 3: Since Himmler and Röhm honour daggers were awarded in 1934, they were all made of "early" construction materials and came with anodized scabbards although a period repainted scabbard is always a possibility.

Note 4: It is possible to have a mix of nickel-silver and plated crossguards and scabbard fittings in a mid-period or late produced piece as stocks of existing nickel-silver parts would have been used up prior to using the new nickel plated parts. But one would expect an early piece to have a nickel-silver grip eagle, crossguards and scabbard fittings.

Note 5: It is fairly easy to distinguish between nickel-silver and nickel plated. Nickel-silver will be slightly duller in appearance with rounder edges than nickel plated which tends to be shinier and have sharper contoured ridges. Flaking or corrosion may be apparent on the plated parts, something which never happens on nickel-silver.

Note 6: The Roman numerals of "I, II or III" often found on the reverse lower crossguard of early SS daggers indicate that the dagger passed inspection at the main SS uniform distribution centre responsible for issuing it: Munich (I), Dresden (II) or Berlin (III). This number had previously erroneously been attributed to the various SS-Abschnitts or SS Districts. Early SA and NSKK daggers will often have an SA Group mark on the reverse lower crossguard. A list of these groups can be obtained from the main menu at left under "SA Group Marks".
SS Dagger Production Periods

Side by side comparisons of dagger production periods (please allow enough time for it to load). From left to right: early, mid-period, late. The sharpness of the centre ridges are, unfortunately, not apparent in the scan. Most apparent are the difference between the nickel-silver (left and centre) and plated (right) crossguards and the nickel-silver (left and centre) and aluminum (right) grip eagles.
SS Dagger Mottos

This provides the collector with a side by side view of samples of a few dagger maker mottos. Except for the Himmler Honour dagger (2nd from right), all are placed at the same starting point from the shoulder of the blade. From left to right are:
Carl Jacobs RZM mark of M7/29
Notice that the exclamation mark at the end of the motto (which is only found on this maker) has forced the beginning of the motto to be slightly closer to the tip of the blade. The etch is not as deep and crisp as on earlier blades. Also the inferior quality of the steel used in the later manufactured blades is noticeable on this one with the flattening of the centre spine by years of movement of the dagger in and out of the scabbard. This does not happen on early blades.
Robert Klass
Extremely crisp motto on this very early Klass blade. The two dark vertical marks at the top of the picture are the marks caused by the dagger movements in and out of the scabbard. Notice as well that the centre spine has no wear mark like the later Jacobs dagger. Notice that surface pitting is noticeable at certain spots in the etching of the motto. This was caused by the storing of the dagger in a damp location over the years. I acquired this one directly from the son of the veteran who brought it back to Canada.
Gottlieb Hammesfahr The crossgraining made by the buffing processing when the dagger was made is very apparent on this factory ground Röhm made by Hammesfahr. This is often gone form the blade after years of shining and polishing by collectors. In and out marks are also noticeable on this magnificent blade. Although the etch of the motto is quite deep, it is not quite as crisp as the Klass dagger.
Carl Eickorn
The motto on the Himmler Honour dagger is positioned slightly farther from the lower cross guard than the other daggers. Also note the almost complete absence of a spine due to the more rounded shape of the blade.
Gottlieb Hammesfahr
Nice clean etch noticeable on my Hammersfahr partially ground Röhm Honour dagger.
Painted and Anodized Scabbards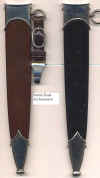 Comparison of painted and anodized scabbards side by side. The brown scabbard on the left is anodized with nickel-silver fittings. The black scabbard on the right is painted with nickel plated fittings. Anodizing is actually a blueing process where the scabbard was stained either black for SS or brown for SA. A coat of lacquer was then applied to protect the finish. Often, all or part of the lacquer is missing. When this happens, the lacquer covered parts will normally appear darker than the rest. What appear to be scratches on the brown scabbard is where the lacquer has been removed. Anodized scabbards were sometimes period painted since the anodized finish is not durable and is easily scratched.
Approximating Date of Manufacture
The presence of a logo, RZM code or both along with the materials used in edged weapon production can be used to determine the approximate date of manufacture. Although most companies only had one logo during the period of the Third Reich, some manufacturers such as the Carl Eickhorn company used 4 separate logos during the Third Reich allows us to date an Eickhorn piece fairly precisely.
1933 to 1936
Metals such as nickel and silver are used in most of the fittings and high quality steel is used to make the blades which were then hand polished to a high sheen. Insignia is hand fitted into handles which are then hand fitted to the blade and its fittings. Hand tooling is apparent in some metal fittings. Crossgraining from the polishing process is clearly visible on the blades as is the company logo.
1936 to 1938
By 1936, the logo on political blades is being replaced by the RZM code with the logo and RZM code sometimes both appearing on the blade. Blades also begin to appear that are void of any logo or RZM code. Manufacturers begin using aluminum and plated "pot metals" in the production of some fittings and scabbards. Plated blades also begin to appear. Hand finishing is no longer apparent in all aspects of production.
1939 to 1942
Logos on political blades have been completely replaced by the RZM code. High quality metals such as nickel and silver have been totally replaced by plated and sometimes non-plated "pot metals" as well as aluminum in the production of fittings and scabbards. Today, flaking and "old" rust may be present on plated parts. Hand finishing has disappeared and quality suffers as a result in the form of ill fitting handles and insignia. Blades are plated and those that aren't have a dull satin finish as opposed to a high sheen. Some late production pieces will even have a mixture of plated, aluminum and nickel parts as stores of parts are used up. All this combines to make the edged weapons produced in this time period often the most difficult to authenticate.